IEEE 4th World Forum on Internet of Things
Singapore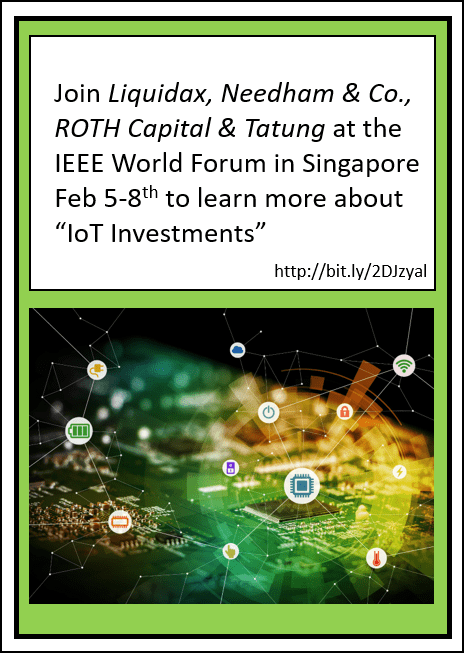 A recent Verizon study found the Internet of Things (IoT) has gained significant momentum in 2016, with accelerating investment in 2017. It reported 20-85% growth between 2016 and 2017 in various markets including smart cities/communities, energy, transportation, distribution, and manufacturing. McKinsey estimated that the Internet of Things could generate $4 trillion to $11 trillion in value globally in 2025.
During 2016-2017 the IoT industry has also seen billions of dollars in M&A and private placement. Aimed to provide a quick yet informative sketch on the IoT investment skyline, this session features speakers from the investment and entrepreneurship communities to present their interests, portfolios, and activities on IoT from strategic and investment perspectives. An open discussion panel will be held at the end to facilitate Q&A and dialogues among speakers and participants.
Investing in IoT – Speakers
Jesse Pichel, Managing Director, ROTH Capital Partners USA
Jesse Pichel joined ROTH Capital Partners in June 2013 as Managing Director in Investment Banking. Prior to joining ROTH, Mr. Pichel was a Managing Director, Global Head of Clean Technology Research for Jefferies Group Inc. Jesse has 18+ years of capital markets experience and is recognized as one of the first research analysts to focus on Solar and New Energy Technologies. He co-founded Piper Jaffray's CleanTech practice in 2004, and previously worked at Needham and Company and Unterberg Towbin as a Research Analyst in the Semiconductor, Electronic Manufacturing, and Emerging Technology sectors. Pichel has received numerous stock picking and earnings accuracy awards including those given by Institutional Investor (II), Forbes, FT/StarMine, and has been ranked as a top analyst and "Top Gun" by the The Wall Street Journal Best on the Street Analyst Survey. He was most recently ranked as a top analyst in the 2012 II All American Team for Alternative Energy, and was runner up two times previously. Pichel is a founding member of the Sierra Club's Clean Tech Council, and is on the board of other nonprofits promoting Sustainability and the Environment. Pichel earned his B.S. from Cornell University, and his MBA from Fordham University.
Presentation:

The growth in IOT has been exponential. Inexpensive IT and bandwidth is enabling a profusion of new IoT applications and uses. This and the resulting big data have brought new efficiencies, and also very substantial vulnerabilities. This applies to people, companies, communities, and governments. As a US IPO firm, we look for leading IOT companies all over the globe. The US stock market is the preferred listing location for Alibaba and most other great technology age companies, because US investors have the greatest appetite and experience in technology innovation businesses. Our discussion will focus on what sorts of IOT related companies are of particularly high interest to technology investors, and why.
Chad Keck, Vice Chairman, Needham & Company, LLC. USA
Chad's finishes his investment banking career as Vice Chairman of Needham & Company for whom he worked for more than 25 years. At Needham & Company, Chad served as founder of the West Coast Office, Co-head of Corporate Finance, Head of the Investment Banking Committee and leader of Needham's Investment Banking Activities in China. During this period, he worked on more than 200 Investment Banking Transactions including 50 Initial Public Offerings all for technology-based companies. As a specialist in the semiconductor sector, Chad worked with many of the nation's leading companies in semiconductor equipment, Electronic Design Automation and semiconductor devices. He counts as friends and clients many of the entrepreneurs and financiers that enabled the PC revolution and the internet and the mobile solutions that play such an important part of today's life style.
Lee Stogner, Partner and SVP, Liquidax Capital, LLC USA
Lee Stogner is a Partner at Liquidax Capital where his focus is on Digital Transformation and supporting specialized projects and integration. He is the IEEE Chairman of Communications, IEEE IoT Initiative and sits on numerous AI, IoT, VR/AR technical committees.
Lee has over 30 years of design, consulting, project management and business development experience across a range of industries. Lee has driven growth at companies that include Digital Equipment, Fluor Corporation and Rockwell International.
Lee is the Chair of the South Carolina Engineering Cluster and was the 2010-2011 Region 3 Director on the IEEE Board of Directors. Today, Lee is developing an international program that will organize and promote the engineering industry of South Carolina.
With digital innovation rapidly transforming industries; Liquidax supports partner companies by investing capital, digital innovation assets and value-added expertise to accelerate growth, enhance competitive positions and increase shareholder value.
Dr. Alan Lin, Director, Strategic Business Development, Tatung Co. Taiwan